4-star ratings. The gold standard and the aim of any app developer. But just how important is your app's rating? And does it directly impact your app's growth? Before we get to ratings, let's talk about ASO. App Store Optimization, or ASO, for short, is the organic process of improving the visibility of your app on the play store or app store to rank higher on search results. ASO is to your app what SEO is to your website.
It's simple, the better your app is optimized the higher it ranks on searches and, in turn, the better the conversions.

How does ASO help?
According to reports by Statistica (https://www.statista.com/topics/1002/mobile-app-usage/), in 2019 alone there were 204 bn app downloads, worldwide. Standing out in the ocean of apps on the store is critical, and in order to even have a reasonable shot at growth, ASO is pretty much essential.
ASO helps you:
         gain organic installs

         lower acquisition costs

         increase revenue

         improve conversion rates

         grow a global userbase (through ASO techniques like localisation).
What Factors Impact ASO?
SEO has had years to mature, and has 200 well defined Parameters. ASO, on the other hand, is relatively new and research into how it works is still very much ongoing. However, there are a few factors we know for sure play a massive role.
Here's a list of the top five factors on the app store and play store compiled by www.thetool.io :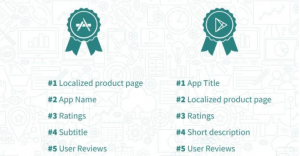 As you can see the factors, though they rank slightly different, are the same across both
stores. Another thing you might not have noticed at first is that of the five factors, there are three factors that are in your hands entirely. The app name, description and having a localised product page amongst the screenshots.
Ratings and reviews on the other hand, require consistent efforts over a period of time.
How Do Ratings Factor in?
Your app's ratings are a direct measure of how users receive your app and as such, play an
important role in your ASO efforts.
According to a report by Apptentive, high ratings help an application stay relatively high in the category and search query results. The higher the rating and the greater the amount of positive feedback, the more likely the app is to be noticed. The more negative feedback your app gets, the lower its rating is going to be, and the lower the rating, the lower the conversion into installs.
Take a look at the graph below, from Apptentive's report. Notice how apps with ratings lower than five stars are downloaded by fewer than ten percent of app store users. Even at 3 stars you would still be missing out on fifty percent of your potential user base. It's only when you get to 4+ stars that you really start converting at a consistent rate.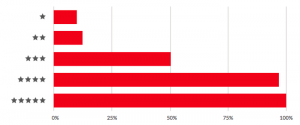 Taking Ratings in Your Own Hands: 
Knowing how important ASO is and how big a factor ratings are to your ASO and to your overall conversion, it becomes clear that monitoring and addressing user issues is going to be a must in order to boost your app's chances at success. Ratings aren't completely in your control.However, monitoring and addressing user issues will make users more likely to leave your app delighted. In turn, this will translate to better ratings for you.
There are two ways to go about addressing user issues:
       This happens after the user has already noticed an issue with your app. It is important first and foremost, to let your user know that you are actively working on rectifying the issue. This can be done by simply responding to their review and letting them know their issue has reached your ears. Once that's done it's simply a matter of working quickly and efficiently to rectify the issue.
Proactively, through constant and insightful analysis:
       This is when you use insights you gather through analytics tools, to predict exactly what your users want, even before they know they want it. This way you can remove potential sticking points of your users and prevent them from ever leaving a negative review in the first place.
Conclusion:
It is important to keep in mind that ASO is not an overnight process, as with all good things in life, getting your app to the top of the app store takes time. Unlike with SEO where there are 200 ranking factors that are well defined and determine your webpage's rankings, ASO is a relatively new concept and as such, there are no silver bullet solutions to your ASO.
However, if you make keeping your app's ratings above that 4/4.5 star mark a priority, and consistently optimize your app to meet your users' expectations you will no doubt make it to the top.